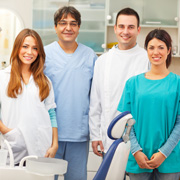 Your firs visit at Dental Square will always involve a Comprehensive Examination or Check-up.  It is also a great chance for you to get to know your dental team and for us to get to know you.
The comprehensive examination will include:
Digital X-rays – Those low dose images are essential to show us the anatomy of the teeth, and to detect any decay or any other abnormalities.
Assessment of periodontal (Gum) condition – The gums, bone and tissues surrounding all the teeth are assessed for any potential periodontal disease.
Detection of any cavities or tooth decay – every single surface of all the teeth in the mouth is examined for any potential cavities or decay.
Assessment of existing restorations – The examining dentist will assess the current condition of all existing fillings, restorations, dentures or crowns in the patient's mouth.
Oral Cancer Screening – as part of our policy at Dental Square, ALL our patients are initially screened for any signs of Oral Cancer.
Our patients are placed on a 6 monthly recall program, so that we always stay on top of their oral health and treat any arising conditions as soon as it arises and before it gets any bigger.