At Dental Square, we offer a full range of general dentistry services in a comfortable, state of the art practice with friendly professional staff that put you and your family first.
General Dentistry is the most important part of dentistry and we take it seriously. If problems are caught and treated early, the prevention of more serious conditions can take place.
From regular check-ups to a root canal procedure, you can be assured that you are receiving the highest quality of care from qualified professionals using the latest technology.
Maintaining your Smile
For optimum dental health we recommend a comprehensive examination or check-up every 6 months, so your dentist can see and effectively treat any problems that may have occurred. We also recommend our patients have a professional dental cleaning once every 6 months to keep your gums healthy, your teeth clean and your breath fresh.
Complete Oral Care
At Dental Square we believe the provision of complete oral care is the basis for good general health.
Our general dental treatments include everything from white fillings and extractions to a root canal procedure, dentures and wisdom teeth management.
At Dental Square, your dentist will consider each case individually and suggest the most appropriate management plan for each condition.
Pain Free Solutions
We provide many solutions for a pain-free experience, including fillings without injections and pain-less injections where injections are needed.  With the latest technological advances, including non-invasive laser surgery, rest assured that the team at Dental Square will make your treatment as comfortable and pleasant as possible.
Your Ryde Family Dentist
At Dental Square, we cater to the general dentistry needs of your whole family. Our qualified friendly staff will do their utmost to put you and your family at ease with comfortable surroundings and a gentle touch. As experts in Children's Dentistry we promise to make each child's trip to the dentist a positive experience.
For a modern take on general dentistry with state of the art equipment, a relaxing environment and a focus on your comfort, make an appointment with Dental Square today on 02 8068 2109.
At Dental Square, we use only white or tooth coloured restorations.  We no longer need to rely on unsightly silver or amalgam fillings due to the evolution of modern dental materials that have become very durable and highly aesthetic.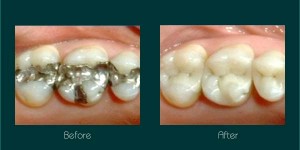 Composite Fillings – Tooth coloured fillings or Composite resin fillings are both natural in the way they look and feel.  The composite comes in many different shades allowing us to closely match the filling to the shade of the tooth.  Once placed on the tooth, the composite is sculpted to mimic the natural contours of the tooth and is then hardened with a special light.  The filling is then polished and the end result is an undetectable, aesthetic restoration.  The filling is completed in a single visit and the patient can eat, drink, and chew straight away.
Porcelain Fillings – Inlays or Onlays are restorations that are made of porcelain usually placed in teeth with moderate sized cavities.  Far more durable than their composite counterpart, the inlay/onlay is custom fabricated by our ceramist and is then bonded to the surface of the tooth.  They are also very effective in protecting the remaining structure of the tooth, thus decreasing the likelihood of needing further treatment such as a crown.